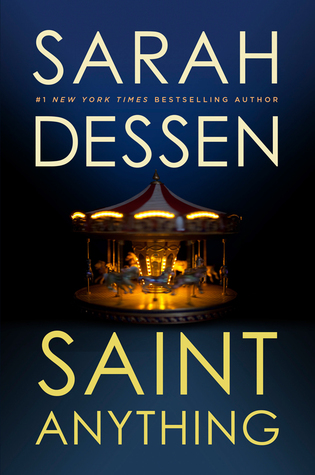 You can't read YA and not have read at least one of Sarah Dessen's twelves (TWELVE!) novels. Her latest, Saint Anything, came out just a few weeks ago and rocketed to the top of the New York Times list, and it's clear why. This was a different direction for Dessen, a bit of a turn from her usually fluffy romantic writing and a chance for her to grapple with some darker edges of growing up.
Sydney has always lived in the shadow of her big brother Peyton, the charming young man who couldn't see his way out of trouble when he needed to. This eventually lands him in prison for drunk driving and injuring a 15-year old boy, paralyzing him. Still, even with Peyton out of the house, Sydney feels invisible. Her Mom is hyper-focused on making sure Peyton is taken care of (even though you know, he's being punished), and her Dad has no backbone when it comes to her Mom so he instead just goes on lots of work trips.
Due to the infamy that comes with being associated with a drunk driver, Sydney decided to switch out of her private school and into the local public where she can feel even more invisible and carry her guilt without the added benefit of everyone knowing why she feels that way. However, the world has other plans for Sydney when she becomes friends with Mac and Layla Chatham and ends up becoming a part of their little universe, willing or not.
What I loved about this novel, is that the romantic relationship between Mac and Sydney was not the main event. Rather the main event was Sydney. Just Sydney. Sydney and Layla's blossoming friendship and how that affected her friends from Perkin's Day, Sydney and her relationship with her mother who's intense need to protect and cater to Peyton has left her daughter in the background. Sydney and her journey in learning to speak up to those around her and say what she's really feeling. For much of the book, I was fighting against Sydney, wanting her to yell at her mom, to yell at Ames (her brother's creepy friend from rehab who won't leave even though Peyton has), to FIGHT for something. However, I realized that this was not Sydney's nature – Sydney's strength was in her quietness, in her ability to understand that it's not about her as frustrating as that might be.
If you follow Dessen on twitter (and you should), you will know that her journey to Sydney's story was a rather long one. She abandoned a novel before writing Saint Anything, and found herself in an unfamiliar place where she didn't have a story in mind. After taking a much needed break and some soul-searching she found her way to Sydney and the story she needed to tell – and I'm so glad she did.
Gooodreads Rating: 4/5 Stars
Average Goodreads Riting: 4.08 Stars
Number of 1-star Reviews: 201
<— Please check the sidebar for links to my facebook, tumbler, instagram and twitter!